Oral Icon Tonsil Serum
Helps clean the tonsils and fights bad breath
Kjøp 2 for

kr 404,00

hver og save

8

%
Kjøp 4 for

kr 381,00

hver og save

13

%
Order Today, Shipped *Today
Free Shipping Over £60
100% 30-day Money Back Guarantee
Shop with Confidence
Kombiner og spar:
kr 846,00 kr 761,40

10% rabat
-kr 84,60 Ved kjøp av denne pakken

1x

+




1*Oral Icon Tonsil Serum + 1*TonsilClin Cupping Glass Mandelsteiner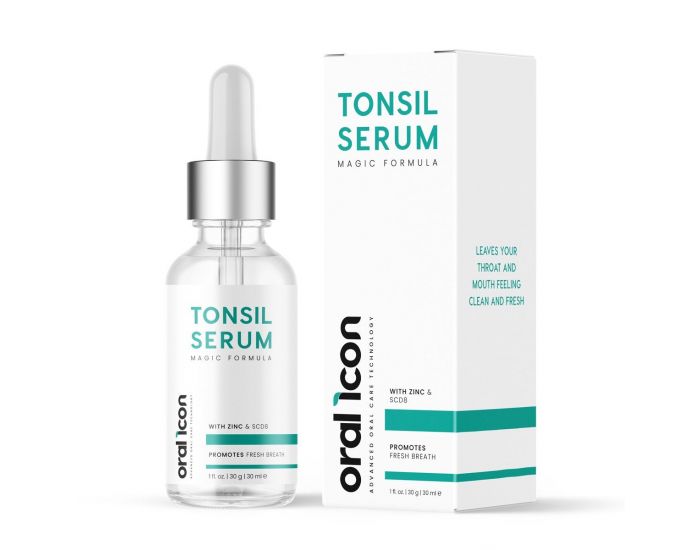 Oral Icon Tonsil Serum
Oral Icon Tonsil Serum has been specially developed for people suffering from tonsil stones, which are often accompanied by foul breath and a foul taste in the mouth.
CLEAN TONSILS. As many as 8 active ingredients work harmoniously together, aiming to clean the tonsils and dissolve tonsil stones.
DEEP CLEANSING. Unlike tonsil-stone-removing instruments, Oral Icon Tonsil Serum reaches even the deepest areas of your tonsils without any chance of irritating the tonsils.
FRESH BREATH IN 1 MINUTE. The OZ-3X™️ Technology consisting of CPC, ZINK and SCD helps inhibit the build-up of tonsil stones by breaking the biofilm and oxidising tonsil stones. Moreover, unpleasant odours from your throat are neutralised so your breath smells fresh.
CALMING EFFECT. Aloe vera has soothing, moisturising and healing properties and helps soothe sore, dry and irritated throat tonsils.
IMPROVES YOUR PALATE. Lemon mint and xylitol contribute directly to a fresher mouthfeel, while a small amount of alkaline sea salt helps prevent a foul taste in the mouth.
FOR EXTRA SECURITY. Oral Icon Tonsil Serum is loved both to complement the use of Oral Icon Tonsil Stones Cupping Glass, and by people who prefer not to use instruments to remove tonsil stones.
SAFE CONTENTS: Oral Icon maintains respect for your oral environment and is free from harsh substances such as SLS, alcohol, peroxide, parabens, chlorhexidine and dyes.
100% SATISFACTION GUARANTEE: We are confident in Oral Icon's efficacy and offer a no-hassle money-back guarantee within 30 days of purchase.
What is the best way to use Oral Icon Tonsil Serum?
Shake before use
Fill the pipette with the serum
Lift the chin
Stick out your tongue as far as possible
Drip 3-4 drops on the back of your tonsil.
Repeat again for the other tonsil
Serum can be swallowed
Repeat 3-4 times a day.
What are the ingredients?
AQUA, GLYCERIN, XYLITOL, ALOE BARBADENSIS LEAF JUICE, CAPRYLIC/CAPRIC TRIGLYCERIDE, DISODIUM PHOSPHATE, SODIUM PHOSPHATE, PEG-40 HYDROGENATED CASTOR OIL, POLYSORBATE 20, MENTHOL, SODIUM CHLORITE, MENTHA ARVENSIS LEAF OIL, ZINC ACETATE, SODIUM SACCHARIN, CETYLPYRIDINIUM CHLORIDE, SODIUM CHLORIDE, MENTHA PIPERITA OIL, METHYL SALICYLATE, CITRIC ACID, POTASSIUM SORBATE, SODIUM BENZOATE
Skriv din egen produktanmeldelse