Dentek Sensitive Clean Flosspicks (40pcs)
Flossers with soft silk thread for sensitive teeth and gums
Kjøp 2 for

kr 38,00

hver og save

10

%
Kjøp 4 for

kr 36,00

hver og save

14

%
Bestill i dag, sendt *i dag
Gratis frakt over 630 kr
100% 30-dagers garanti for å få pengene tilbake
Handle medtillit
Kombiner og spar:
kr 54,95 kr 49,45

10.01% rabat
-kr 5,50 Ved kjøp av denne pakken

1x

+




Flosspicks+ Toothpaste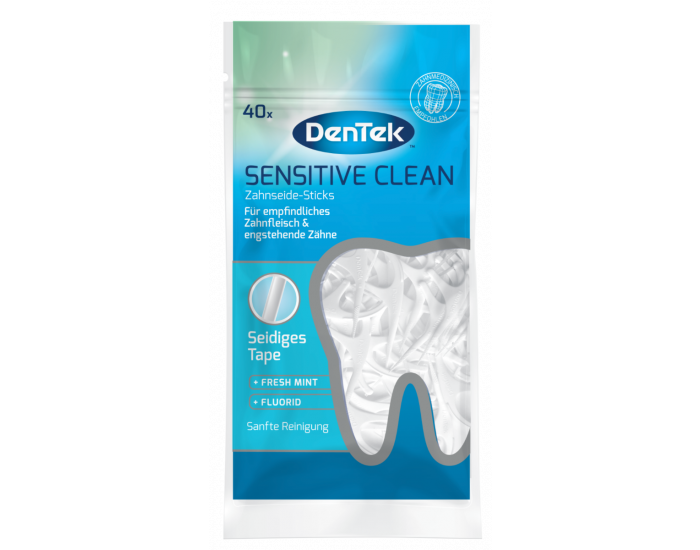 Dentek Sensitive Clean Flosspicks
Dentek Flosspicks help to remove the plaque that can be formed along the gum line and also dislodge food particles that can get stuck between teeth. 
Flossing is an essential part of a balanced oral hygiene regime. Alongside brushing, flossing can help to prevent bad breath, tooth cavities and gum disease.
In the case you suffer from particularly sensitive teeth and gums, using traditional dental floss, toothpicks and interdental brushes can be a challenge. 
DenTek Sensitive Floss Picks are designed to make flossing as easy and comfortable as possible – even for those with extra-sensitive teeth and gums. 
What are the advantages of Dentek Sensitive Clean Flosspicks?
Soft ribbon floss technology gently removes food and plaque without irritating sensitive gums 
Ergonomically designed curved comfort pick is shaped to help gently massage sensitive gums
Tongue cleaner helps to remove bacteria on the tongue and fight bad breath
Flossing Instructions:
Gently slide floss up and down between teeth allowing the floss to wrap around teeth.
Clean above and below the gum line.
Rinse as necessary.
Pick Instructions:
Place pick between teeth and gently press against the gum.
Use an in and out motion to remove food particles and stimulate gums.
Rinse as necessary.
Tongue Cleaning Instructions:
Extend your tongue.
Place the Tongue Scraper on the back of your tongue and pull forward, skimming the surface of your tongue.
Rinse as necessary.
Skriv din egen produktanmeldelse