UltraDEX Daily Oral Rinse
Mouthwash based on active oxygen
Kjøp 2 for

kr 194,00

hver og save

5

%
Beställ idag, skickas *idag
Gratis frakt över 615 kr
100% 30-dagars Pengarna Tillbaka-garanti
Handla med förtroende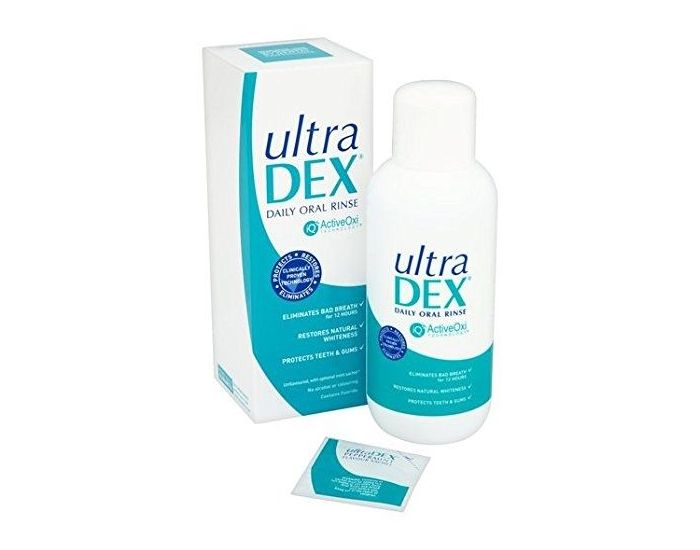 UltraDEX Daily Oral Rinse
Ultradex Daily Oral Rinse instantly eliminates bad breath for 12 hours. What´s more, it protects teeth and gums by removing bacteria that could cause many problems in your mouth. The oral rinse from UltraDEX additionally restores natural teeth whiteness by gently lifting everyday stains. 
The advanced iQ+ ActiveOxi Technology® within UltraDEX® Daily Oral Rinse is clinically proven to instantly eliminate bad breath compounds (Volatile Sulphur Compounds) for 12-hour fresh breath confidence.
UltraDEX® is backed by scientific research and clinically proven technology and has been developed, used and recommended by Dental Professionals for 25 years.
What are the additional benefits of UltraDEX Daily Oral Rinse?
✓Free from alcohol and Chlorhexidine
✓Clear and unflavoured with a separate mint flavour sachet to suit personal taste
✓Free from artificial colouring
✓Suitable for Vegans
How to use UltraDEX Daily Oral Rinse?
To enjoy a mint flavor, simply add the contents of the flavor sachet to the entire bottle of rinse and shake well before each use.
Use 15ml in the morning and evening, either before or after brushing.
Rinse for 30 seconds.
Do not rinse around the mouth with water after use.
Do not swallow.
Not suitable for children 6 years and under.
Do not store in direct sunlight.
Active ingredients:
iQ+ ActiveOxi Technology powered by Stabilised Chlorine Dioxide and Sodium Monofluorophosphate.
Ingredients:
Aqua, Trisodium Phosphate, Sodium Monofluorophosphate (230 ppm Fluoride), Citric Acid. Contains Sodium Monofluorophosphate.
Ingredients of Flavour Sachet:
Polysorbate 20, PEG-60 Hydrogenated Castor Oil, Aroma, Menthol, Sodium Saccharin, Limonene.
Skriv din egen produktanmeldelse