The Breath Co. Oral Rinse Rainforest Mint
Oral rinse for bad breath
Kjøp 2 for

kr 122,00

hver og save

17

%
Kjøp 4 for

kr 134,00

hver og save

9

%
Order Today, Shipped *Today
Free Shipping Over £60
100% 30-day Money Back Guarantee
Shop with Confidence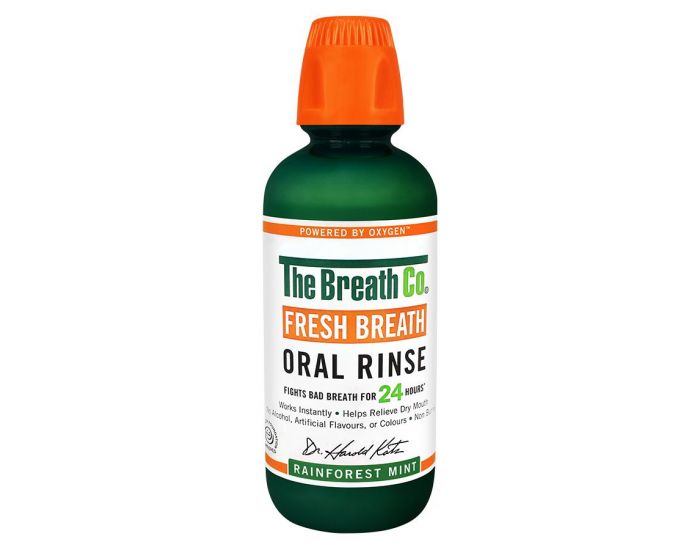 The Breath Co. Oral Rinse Rainforest Mint
A mouthwash with an active oxygen formula is a safe, yet effective way to get rid of bad breath. Rainforest Mint is a unique flavour for those who want something different from mint-flavoured mouthwashes.
Effectively combats the bacteria that cause bad breath
Active oxygen is an effective tool against the anaerobic bacteria in the mouth that produce foul-smelling gases. The main ingredients of Oral Rinse Rainforest Mint are sodium chlorite, an oxygenated compound, and xylitol. This natural sweetener has proven beneficial properties for strong, smooth tooth enamel and good oral health.
Long-lasting freshness
When used as prescribed, twice daily, you will enjoy a cared-for, moisturised mouth and fresh breath for 24 hours.
Instructions for use
Use in the morning and evening after brushing your teeth.
Pour 1 capful of Oral Rinse Rainforest Mint in a cup and rinse your mouth for one minute.
Use another cap to gargle deeply into your throat for 30 seconds.
Wait at least 5 minutes before eating or drinking anything.
Ingredients
Water, glycerine, PEG-40 hydrogenated Castor Oil, natural citrus flavour, natural bergamot oil, citric acid, sodium hydroxide, sodium chlorite, peppermint oil, menthol, sodium benzoate, sodium bicarbonate, lemon peel oil, limonene, sucralose and xylitol.
Skriv din egen produktanmeldelse