SOVA Night Guard - New 3D Easy Fit At Home
Preformed SOVA Night Guard for teethgrinding - with case
Kjøp 2 for

kr 404,00

hver og save

4

%
Order Today, Shipped *Today
Free Shipping Over £60
100% 30-day Money Back Guarantee
Shop with Confidence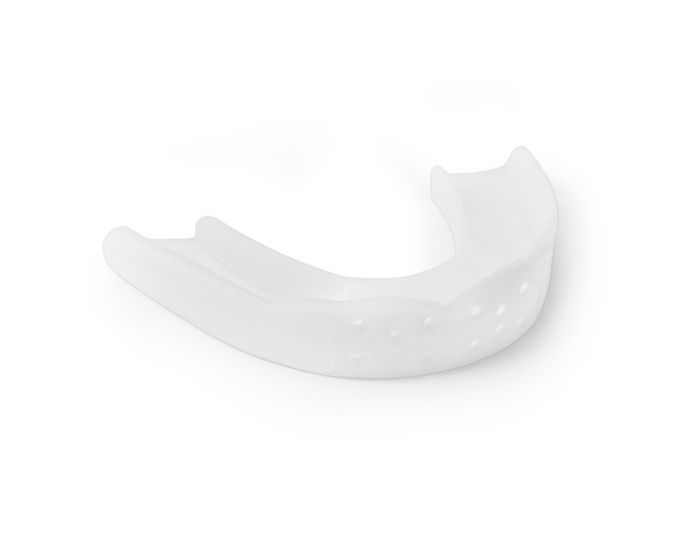 SOVA Night Guard - New 3D Easy Fit At Home
Comfortable and a scientifically proven anti-grinding dental guard that works against bruxism.
SOVA Night Guard 3D is the newest version of SOVA that helps you protect your teeht if you suffer from teeth grinding. It is a pre-formed mouthguard that makes it even easier to fit your night guard at home. Even easier to shape than the original version of SOVA (Aero). All you have to do is place your teeth in it for the perfect fit.
Mouth guards from SOVA are the best on the market. However, we noticed that some customers had difficulty fitting the material completely. To avoid that problem, we have now developed SOVA Aero 3D where most of the material is already pre-shaped. 
Beware of counterfeit mouth guards that look like SOVA and are often much cheaper. You cannot be sure that the material is emission-free and safe.
These 10 characteristics make SOVA 3D superior to other mouthguards for teeth grinding
100% protection. Unlike other mouthguards on the market, SOVA Aero Nightguard is the only mouth guard that doesn't just provide optimal teeth protection but also prevents teeth grinding and painful jaws with Diffusix technology.
Extremely thin and comfortable. With a thickness of only 1.6 mm SOVA is the thinnest mouthguard for teeth grinding on the European Market. Because of the comfortable and pleasant fit you will sleep the entire night sleep without disturbance. 
Resistant against very heavy grinding. SOVA is 8 times stronger than the regular EVA mouthguards. These mouthguards, which are made from a substance called Ethylene Vinyl Acetate, are easily bitten to pieces. SOVA is made from a much stronger and biodegradable polymer which can withstand even the most severe forms of grinding.
Scientifically Proven. A study from the University of Michigan shows that SOVA protects teeth just as well as custom made mouthguard from the dentist, but that it's much more comfortable to wear. Compared to a mouthguard from the dentist SOVA is up to 80% cheaper and (instead of waiting for 12 weeks) is ready to be fitted in 2 minutes. 
Is CE Certified. SOVA Aero is CE certified. This means you can fully trust that you are wearing safe material without unpleasant chemical components such as BPA, Latex, PVC, Phthalate or other harmful plasticisers.
With perforations. Mouthguards for teeth grinding that close of the teeth completely increase the risk of caries and tooth decay. That's why SOVA has  perforations. These small holes ensure a supply and discharge of saliva to and from the teeth and molars. This way the teeth stay strong and healthy. Another advantage of the perforations is that you can gently suck on the mouthguard during molding and thus achieve the perfect fit.
Easily get it to the right size yourself. You can shape SOVA easily, quickly and as often as you want until you are completely satisfied with the fit. The SOVA 3D is partly preformed, which makes it easier to get the right fit compared to the flat version.
Covers all teeth and molars. Mouthguards for teeth grinding that do not reach the molars can cause serious problems with the teeth. SOVA is big enough for all teeth so that the back molars are protected as well. 
Can also be used for jaw clenching during the day. SOVA Aero is also suitable for people that clench their teeth during the day and people that want to stop biting their cheeks. SOVA Aero Nightguard is so thin you can even talk and drink with it.
Dissatisfied? Money back guarantee! We are this confident about the SOVA Nightguard that we give a 100% (30 days) money back guarantee.
Other versions
If you prefer the flat version of SOVA, you can choose the SOVA Aero Night Guard
SOVA is also available for children between 6 and 12 years old. This version is the SOVA Junior and is available in colours: white, purple and green.
Besides the regular 1.6 mm version there is also the SOVA Max 2.4 mm for people who prefer to wear a thicker mouthguard. 
Who is SOVA suitable for?
SOVA is designed for people who want to protect their teeth from teeth grinding and who want to get rid of jaw pain and headaches by reducing teeth grinding. 
SOVA is good for people who clench their jaw during the day.
SOVA is suitable for people with implants. If this is the case aluminium foil (or dental wax) should be used as a barrier when moulding the guard so the guard material doesn't stick to the implant.
SOVA is suitable for people with braces. If this is the case an orthodontist or dentist should measure the mouthguard.
SOVA is also suitable for people with jaw joint problems also known as temporomandibular dysfunction (TMD).
SOVA is suitable for people who bite on the inside of their cheeks a lot and who want to unlearn this. 
Who is SOVA less suitable for?
Do not use it in combination with prosthesis 
Do not use if you suffer from cavities, lose teeth, or lost fillings
Do not use when you experience pain while wearing the mouthguard. Stop directly if this is the case.
Do not use it if you suffer from mouth sores or problems with your gums.
Do not use if the mouthguard does not reach your back molars and contact us immediately.  
Fitting checklist: 
Bowl, ceramic or glass

Hot, but not boiling water (85 degrees Celsius)

Fork or similar utensil

Mirror
Instructions: 
Wash your hands and the material with mild soap and water

Heat water to about 80/85°C for example in a kettle, on the stove top or in a microwave oven. Immerse the night guard in the water until the material becomes soft and pliable (30-60 seconds). Once soft, use a non-plastic intensil to carefully lift your SOVA Night Guard out of the water. 

DO NOT let the softened night guard fold on itself- the material will glue together, making it difficult to reshape. 

Holding the night guard wiht both hands, carefully insert into you mouth. Make sure the back inner ridge does not fold in on itself.  Once the guard is in the proper position, close your lips over the guard and put your tongue onto the roof of you mouth. Bite down gently - do not make deep teeth marks.

Gently create suction by swallowing until the material has hardened to a snug, perfect fit. Keep the SOVA Night Guard in your mouthg for 3-5 minutes to allow the shape to set. After the night guard is set, it should be snug enough that it won't fall of your teeth when you open your mouth.
Unhappy with your fit? NO PROBLEM! Every SOVA Night Guard is remoldable up to 20 times. Simply place your formed SOVA Night Guard back in the hot water, let it soften and straighten out, and there you go! Time for Round 2.
DON'T DO THIS:
Use boiling water to mold your nightguard.

Overly stretch the material - night guard will tear. *DO NOT use if damaged.

Suck-in air too enthusiastially, creating a fit that's too tight.

Bite down too hard or create deep bite marks in the night guard.
Materials
The SOVA material consists of a mix of different, biodegradable products. The material is safe, sustainable, stronger than EVA, and 100% free of chemical substances such as BPA, latex, PVA, and Ftalaten. Do you want to be sure? Ask for an official European safety certificate via Email. 
Skriv din egen produktanmeldelse