Dentek Profiguard Professional Fit Dental Guard
Mouth guard for protection against nighttime teeth grinding
Kjøp 2 for

kr 311,00

hver og save

14

%
Kjøp 4 for

kr 270,00

hver og save

26

%
Bestill i dag, sendt *i dag
Gratis frakt over 630 kr
100% 30-dagers garanti for å få pengene tilbake
Handle medtillit
Kombiner og spar:
kr 548,00 kr 493,20

10% rabat
-kr 54,80 Ved kjøp av denne pakken

1x

+

SOVA Fresh Desinfeksjonsspray

Bestill i dag, sendt *i dag
Gratis frakt over 630 kr
100% 30-dagers garanti for å få pengene tilbake
Handle med tillit




Dentek Guard + SOVA Fresh Spray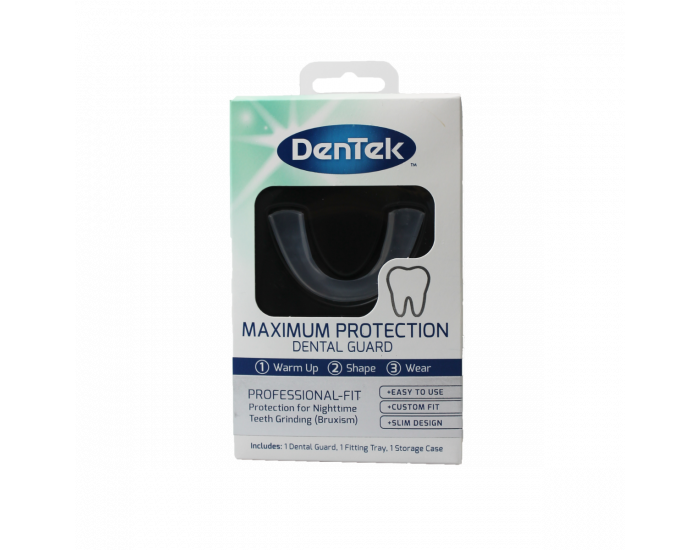 Dentek Profiguard for teeth grinding during sleep
Teeth grinding during sleep can be accompanied by a lot of force. This force can be compared to a pressure of 125 kilos on the teeth. That is enough to crack a walnut. The Profiguard Professional Fit dental guard is a guard that helps against teeth grinding during sleep and absorbs this weight without any problems. It has a moldable upper layer to create a cushion to comfort and protect teeth. It helps to prevent undesirable symptoms caused by teeth grinding, including jaw aches, tooth chipping and headaches. 
Why Dentek Profiguard Professional Fit?
There aren´t better fitting teeth grinding mouth guards in the world than the Profiguard. It uses 25% less material and is 60% stronger than ordinary guards. Most teeth guards are 25% thicker, which causes the jaws to be at unnatural distances in the long term and causes undesirable symptoms. Profiguard is a smart alternative. It has been manufactured with as little material as possible to ensure an extremely comfortable fit. At the same time, the Profiguard Professional Fit Dental Guard is 60% stronger. Of all "home made" bite dental guards, the Profiguard is the only dental guard that can be compared to a "dentist's mouth guard", but without high costs. 
Important features
The Profiguard can be easily adjusted to the shape of your dentition within 5 minutes, which guarantees perfect comfort 
Easy to clean with warm water. Can be dried with a hairdryer if desired 

Sustainable quality ensures long-lasting protection 

Is attached to the upper jaw 

Free of BPA and latex 
Would you prefer not to make the mouth guard yourself? Then take a look at the Dentek Platinum Guard.
What do you need?
Dentek Profiguard Professional Fit 
Bowl of hot water
Fork
Mirror
Timer
How to use it?
Read all the instructions and warnings before you begin to fit your guard;

Make sure to place the dental guard correctly into the fitting tray; the guard is positioned correctly when the dental guard is concave

Heat at least 1,5 inches of water till almost boiling and let rest for 10 seconds;

Place the guard and forming tray face down in the hot water for forty-five seconds. 

Remove the tray with the fork and quickly rinse under cold water for one second;

Place to forming tray in your mouth and centre the dental guard below your two front teeth and the sides below your molars;

Bite down firmly into the guard, relax your bite but keep the guard in place for at least two minutes while the material hardens;

Remove the guard and tray gently from your mouth and rinse under cool water for at least 20 seconds;

Remove the guard from the fitting tray: start by pulling the ends from each side of the fitting tray.

Done :)
Package contents: 
1 Dental Guard

1 Fitting Tray

1 Storage Case 
Skriv din egen produktanmeldelse